NOW HIRING EMBROIDERY MACHINE OPERATORS!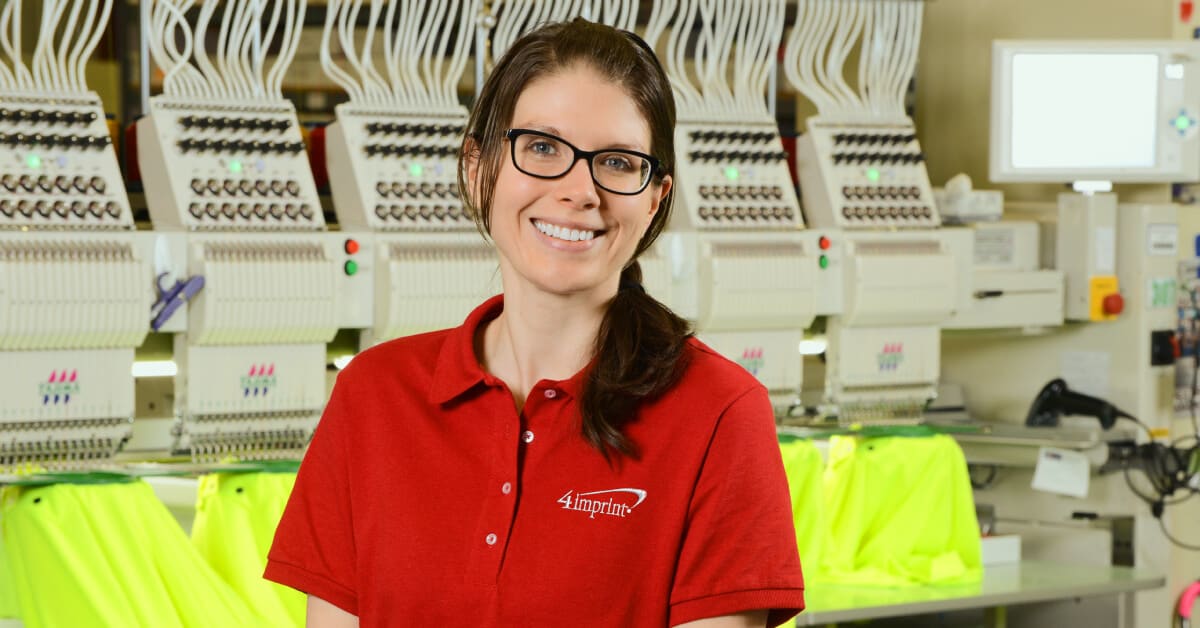 4imprint is a proud 9-time recipient of the Great Place to Work® award! Don't just take Fortune® magazine's word for it; read a current embroidery machine operator's first-hand account about working at 4imprint.
Rachelle's story
My name is Rachelle, and I work as a 2nd-shift embroidery machine operator at 4imprint. That means I work 4 10-hour days and have 3-day weekends!
Prior to working at 4imprint, my only reference to any sort of manufacturing environment was a poorly lit facility that my dad worked in. I was pleasantly surprised at how clean and bright the 4imprint distribution center was. It was not at all what I imagined.
In addition to the nice facility, I never thought I would find an occupation that I would truly enjoy. I feel like I am appreciated and that my work has importance. I also enjoy working independently within a very supportive and helpful atmosphere.
4imprint is an equal opportunity employer.
Here are our current openings.

Our Philosophy – "We strive to live by the Golden Rule"
We seek to create an environment where people are valued and respected. After all, associates who are passionate about their work are naturally inclined to share that enthusiasm with everyone they encounter.
Besides a wonderful team to work with, here are a few more reasons to consider 4imprint:
Medical, dental, vision, disability, & life insurance
Immediate paid vacation / sick time / paid holidays
401 (k) with immediate 100% vesting
Tuition reimbursement
Stock savings plan
Gain sharing
On-going, on-site training
Paid time off to volunteer
On-site massage therapists
Oil change service
Schwan's and Papa Murphy's deliveries on-site
Catered breakfast and lunches
Wellness program including onsite exercise classes
Onsite Nurse, Nurse Practitioner, Wellness Coordinator, Dietician, EAP, and Physical Therapist
Internal promotion/transfer opportunities
4imprint is an organization committed to giving back to our community and our world, visit onebyone.4imprint.com for more information.
Where is 4imprint?
4imprint has 2 locations.
Downtown Office
Our office is located in Downtown Oshkosh at 101 Commerce Street, Oshkosh, WI. Restaurants, hair salons, shops, a day care center, and the waterfront are just a few steps way. Also located near the YMCA, library, and Main Street shopping and dining.
Distribution Center
Our Distribution Center is located on the South-West side of Oshkosh at 2875 Atlas Avenue, Oshkosh, WI. It's just minutes away from Highway 41 and the Oshkosh Outlet Mall. The Distribution Center also has an associate walking trail, which is approximately 1 mile in length.
Why 4imprint?
Click play to hear from our teammates.
4imprint is an Equal Opportunity Employer (pdf)
EEO is the Law Supplement English Version – Revised September 2015
Individuals needing accommodation to complete the application process due to a disability should contact the 4imprint Human Resources Team at 920-236-7272.